Hi guys! Finally some really exciting news! Aly & AJ have announced that their new single "Hothouse" will officially be released on iTunes July 8th. As if that isn't exciting enough, the girls have also announced TWO special shows to introduce their new music. Check out the time & place for those shows below, and preorder concert/meet and greet tickets here.
Obviously I am very excited about this information so I will try to get things going with this website since you guys know we have been on a hiatus for a while.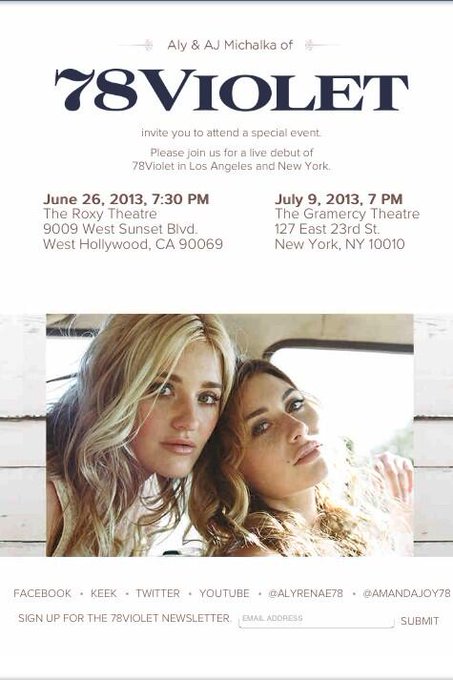 "We couldn't be more ready or excited to introduce our amazing fans to the new and evolved sound behind 78Violet," says Aly and AJ Michalka in a press statement. "These two upcoming shows will allow us to share a small taste of the alternative pop vibe that you'll hear on the album in an organic and up close and personal setting."
The sisters came onto the scene in 2005 with their debut album "Into the Rush," which has sold 839,000 copies to date, according to Nielsen SoundScan. The girls are best known for singles "Rush" and "Chemicals React," which both cracked the BHot 100. "Insomniatic," their last album under the name Aly & AJ, was released in 2007 and peaked at No. 15 on the Billboard 200 chart.
Since leaving Hollywood Records in 2009, the duo has been active in film and television. Aly starred in the cancelled CW drama "Hellcats" and will appear in the upcoming film "Grown Ups 2," while AJ had small parts in "Super 8″ and "The Lovely Bones."
The newly refreshed duo have been working on material for an upcoming album, which is "soon to be released," according to a press blast. "Hothouse" was produced by David Kahne, and its music video will also be released on July 8.
Hey guys, just making a cameo update to post some songs that were leaked from the girls' unreleased Hollywood Records album. This is the album that was not released a few years ago, not the "upcoming" album.
Hey you guys. I know I have not updated this site is over a year. Truth is, I have grown up a lot and although I am still interested in the girls, I stopped seeing the point in updating until things have picked up career-wise a little more. If you would like to keep up with the girls, the smartest things to do is just follow them on Twitter, and on Instagram with their usernames alyrenae, and amandajoy78.
I keep renewing this website because I want to see the girls succeed and once things pick up a bit more, I might start updating again. Below is a recent interview with the girls about upcoming projects. Until then, thank you guys for your support over the years, you might see me back again in the future!
-Lauren
Added 40 pictures of the girls looking beautiful at tonight's Super 8 premiere. More + HQ will be added as they come in. Remember, Super 8 opens in theaters THIS Friday, June 10th!!
Well, I figured I might as well update the website while I figure out what I want to do with it. Remember, if you would like to take over this website (or maybe help me run it, still deciding) please E-mail Me and include your experience. Thank you to the fans who keep visiting and have visited over the years.
If you haven't read Aly and AJ's latest blog post (on the update below) check that out. For now, here are all the pictures we missed:
Candids:
10 x 04/17/11 – AJ at a local car wash in Malibu
06 x 04/23/11 – Out and About in West Hollywood
17 x 05/03/11 – Reading at Famous Chick's BBQ in Woodland Hills, CA
04 x 05/16/11 – Aly Out in Calabasas
05 x 05/16/11 – AJ at Corner Bakery in Calabasas with Mom
17 x 05/19/11 – Aly at an audition for "The Gangster Squad" in Los Angeles
14 x 05/27/11 – Aly at Beso in Hollywood with her Hellcats costars
Appearances:
10 x (04/16) – Matt Leinart Foundation Celebrity Golf Classic Welcome Party
10 x (04/26) – PIX11 Morning News
30 x (04/29) – 18th Annual Race to Erase MS Gala in LA
94 x (05/04) – NYLON Magazine May Young Hollywood Celebration at Bardot
60 x (06/05) – 2011 MTV Movie Awards
Hey Guys,
Sorry it's been so long since we've blogged. Don't worry we haven't forgotten about you!! As you may already know, Hellcats has been cancelled, but we truly appreciate the support you gave us. We are very proud of the first season and it was an incredible experience! We have made lifelong friends, which is always a good thing!
We are fully focused on the next album. You all have been so patient and understanding.
We know alot of you have been with us from the beginning and it seems like just yesterday when we released Into The Rush. The music we have been making lately is such a progression from what we have done in the past, but without leaving behind who we are.
The weather has been beautiful here in California and we've been seeing so many dear friends lately. AJ is headed to London in June and will also be traveling through St. Tropez and Cannes. She can't wait to meet our French fans. Of course, I'm a lil jealous since I won't be joining her, but she is taking a special trip with a friend.
Also don't forget to mark your calendars for Super 8 coming to theaters June 10th!!! We just got the new Ipad 2 and have been playing with the cool Super 8 app. We are so hooked
Anyway, we will try and be more consistent with writing you! Send in questions that we can answer on our next blog and follow us on Twitter @78violet. We love you! Xo Aly and AJ